Now you can use the trusted name of Kelley Blue Book to help sell your car. Simply research the suggested private party Blue Book value of your current vehicle, then it's easy to quickly print a personalized 'For Sale' sign with the recognized Kelley logo.
It makes sense that if you are planning to sell your car, you'll get the Blue Book value first to determine the fair, private party value. And you're not alone. Each month, milions of car-buyers generate private party pricing reports on cars they are looking to sell or buy. As a champion of the transaction, Kelley Blue Book created this simple tool to assist you in selling your vehicle quickly and easily.
The window sticker is topped with the words 'FOR SALE' in large 30 point type, so that drivers at a car-length's distance can read the sign. The Kelley Blue Book seal and suggested private party value follows, letting potential buyers know you have done your homework as a seller. The sign also includes the year, make, model, mileage and condition of the car, along with a list of the vehicle's standard and upgraded features. In the center of the sign is a large box with a dollar sign for consumers to write in the amount they are seeking for the vehicle.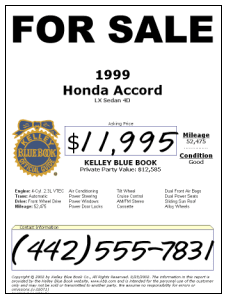 "With this simple window sticker, sellers can compare their asking price to the trusted Kelley Blue Book value," said Stephen Henson, vice president of marketing, business development. "It helps build credibility and trust with any potential buyer."
How to Print Your Own Sticker
To print a personalized window sticker, click on the Private Party Values link on the home page. Select the year, make, model and condition of the car to be sold. When the final pricing report is displayed, just click on the 'Print For Sale Sign' link.
When you're selling a car to a private party, trust is the key issue. What better than to add the most trusted resource in the automotive industry to assure your potential buyer that you are serious about getting a fair price for your vehicle.